Das multilaterale Projekt mit unseren internationalen Partnern in Italien, Mazedonien, Rumänien und Spanien ist mit dem ersten Schüler- und Lehreraustausch in Bari kurz vor Weihnachten gestartet. Die Schüler haben ihre ersten Eindrücke in einem englischen travel blog zusammengestellt.
Erasmus mobility in Bari
On the first day the students of the participating countries presented their school, culture and traditional folkloric music and costumes to each other. It was really interesting to learn the different traditions and music styles.
After that we visited the Teatro Petruzelli in Bari City Centre, where we got a guided tour around this amazing theatre.


The following day we made a trip to Alberobello and Pulignano. In Alberobello the houses called trulli were very special, round and with a cone-shaped roof, and in Pulignano a Mare we had a beautiful view of the seaside of Apulia.



On Monday we experienced a treasure hunt game in the city centre of Bari with the other Erasmus members in order to learn something about the history of the city. During that treasure hunt we were split up in groups, including one student of each country.
The next day the Italian students presented a traditional Italian dance and it was very interesting to watch. In the evening we went to a restaurant in Bari, called "Mozzarella e Basilico" for dinner with all the other 45 students and it was very delicious and also great to talk with the others.
On Wednesday, our last day, we visited Castel del Monte. It was very interesting, because our headmaster told us some fascinating facts about its history and Friedrich II who built the octagonal castle.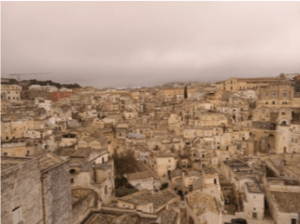 After that we went to Matera, the cultural capital of 2019. It was pretty exciting because there were big caves, built into the mountains, where the people lived and worked a long time ago, isolated from any civilization.
Alltogether we really enjoyed the time in Bari very much, and we are looking forward to seeing the other students again in Germany.